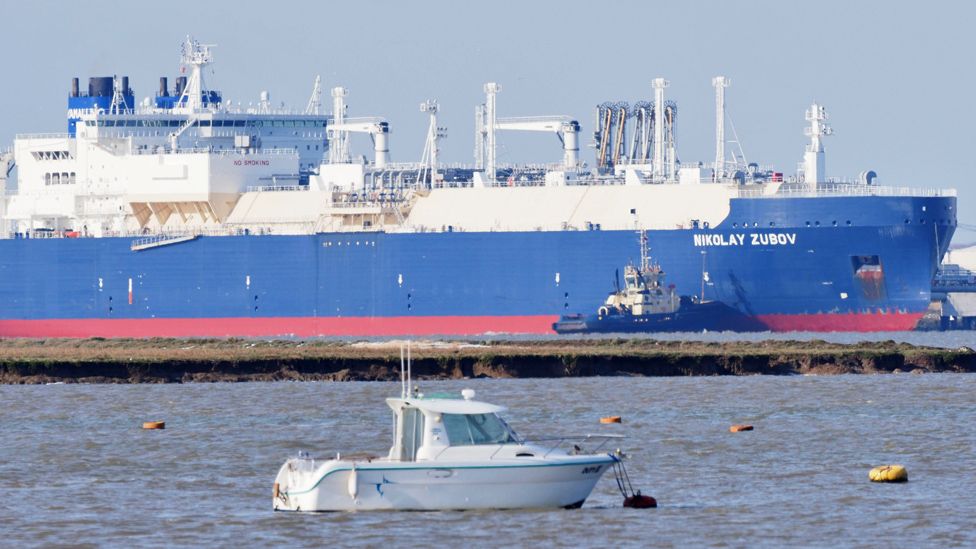 Image source, Alamy
Image caption,
The Nikolay Zubov LNG tanker, docking in the UK in 2021
By Ben King
Business reporter, BBC News
Shell is still trading Russian gas more than a year after pledging to withdraw from the Russian energy market.
The company was involved in nearly an eighth of Russia's shipborne gas exports in 2022, according to analysis from campaign group Global Witness.
Oleg Ustenko, an adviser to Ukrainian President Vladimir Zelensky, accused Shell of accepting "blood money".
Shell said the trades were the result of "long-term contractual commitments" and do not violate laws or sanctions.
As recently as 9 May, a vast tanker capable of carrying more than 160,000 cubic metres of gas compressed into liquid form – liquefied natural gas or LNG – pulled out of the port of Sabetta, on the Yamal peninsula in Russia's far north.
That cargo was purchased by Shell before heading onwards to its ultimate destination, Hong Kong.
It is one of eight LNG cargoes that Shell has bought from Yamal this year, according to data from the Kpler database analysed by Global Witness.
Last year Shell accounted for 12% of Russia's seaborne LNG trade, Global Witness calculates, and was among the top five traders of Russian-originated LNG that year.
In March 2022, in the weeks following the invasion of Ukraine, Shell apologised for buying a cargo of Russian oil, and said it intended to withdraw from Russian oil and gas.
It said that it would stop buying Russian oil, sell its service stations and other businesses in Russia,which it has done. It has also ended its joint ventures with the state energy giant Gazprom.
And it said it would start a "phased withdrawal from Russian petroleum products, pipeline gas and LNG". But it warned that it would be a "complex challenge".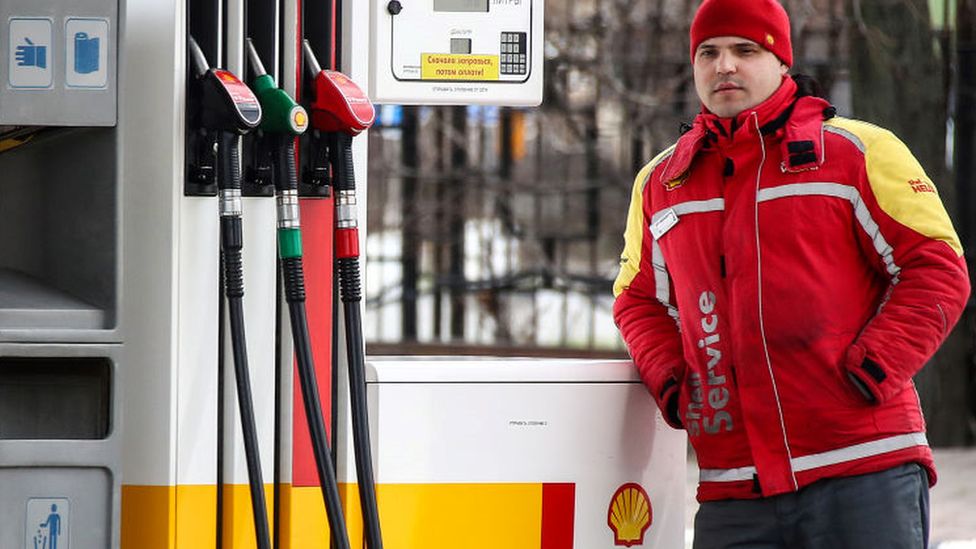 Image source, Getty Images
Image caption,
Shell said last year it would close all its service stations in Russia
Since then, it has kept taking cargoes of LNG from two Russian ports, the one at Yamal and one at Sakhalin in the far east.
Shell used to be a minority investor in the Sakhalin gas project, but abandoned that claim in September last year after the Russian government transferred its shares to a local business – and since then has taken no gas from Sakhalin.
But it still honours the contract with the Russian LNG company Novatek, which obliges it to buy 900,000 tonnes a year from Yamal until the 2030s, according to the Reuters news agency.
Novatek is Russia's second biggest gas company, and the taxes it pays are a significant contributor to the Russian government's budget.
What sanctions are being imposed on Russia?Which companies said they would pull out of Russia?
Oleg Ustenko, an adviser to the Ukrainian president, said: "It is quite simple: by continuing to trade in Russian gas Shell is putting money into Putin's pockets and helping to fund Russia's brutal aggression against the people of Ukraine.
"The vast sums that Shell and the whole oil industry have made in Russia should be used to help fund the reconstruction of Ukraine, rather than lining the pockets of their shareholders."
A spokesman for Shell said: "Shell has stopped buying Russian LNG on the spot market, but still has some long-term contractual commitments. This is in full compliance with sanctions, applicable laws and regulations of the countries in which we operate.
"There is a dilemma between putting pressure on the Russian government over its atrocities in Ukraine and ensuring stable, secure energy supplies. It is for governments to decide on the incredibly difficult trade-offs that must be made."
Shell is the world's largest trader of LNG, which is not subject to European sanctions, making billions of dollars in profits trading oil and gas last year.
Russia massively reduced its deliveries of gas by pipeline last year, but it has increased the amount of gas it supplies by ship, including to Europe.
The UK has not imported any Russian gas for over a year, while EU politicians are trying to reduce the amount of Russian LNG the bloc imports. In March, the EU's Energy Commissioner Kadri Simson called on countries and firms to stop buying Russian gas, and not to sign new contracts.
"It's long overdue that the trading of Russian LNG is looked at with the same disgust as Russian oil trading. Targeting Putin's energy income cannot be about symbolic measures but must concretely put a stop to the huge fossil fuel sums that cement his power," said Jonathan Noronha-Gant, senior campaigner at Global Witness.
The France-based energy company TotalEnergies is a minority shareholder in the Yamal project, and was also a major trader in Russian LNG, the Global Witness analysis reported.
The BBC has approached TotalEnergies for comment.
Related Topics
Russia-Ukraine warShell
More on this story
What sanctions are being imposed on Russia?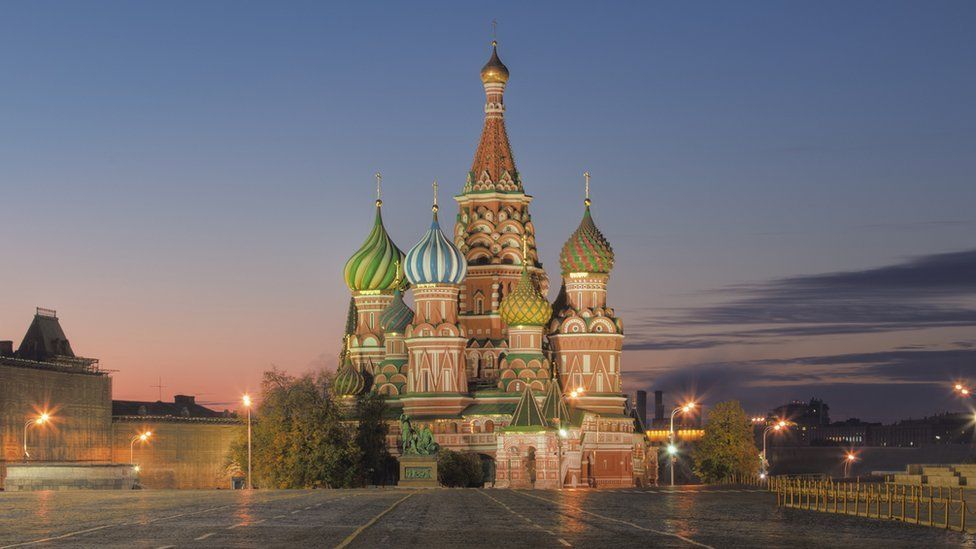 Shell reports stronger than expected profits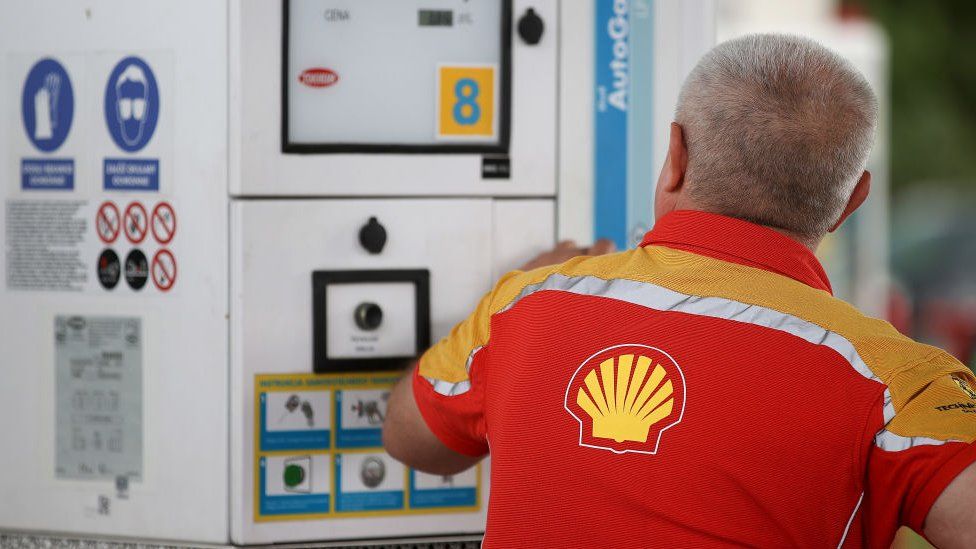 BP stands to get 'blood money' – Ukraine adviser
Published
2 December 2022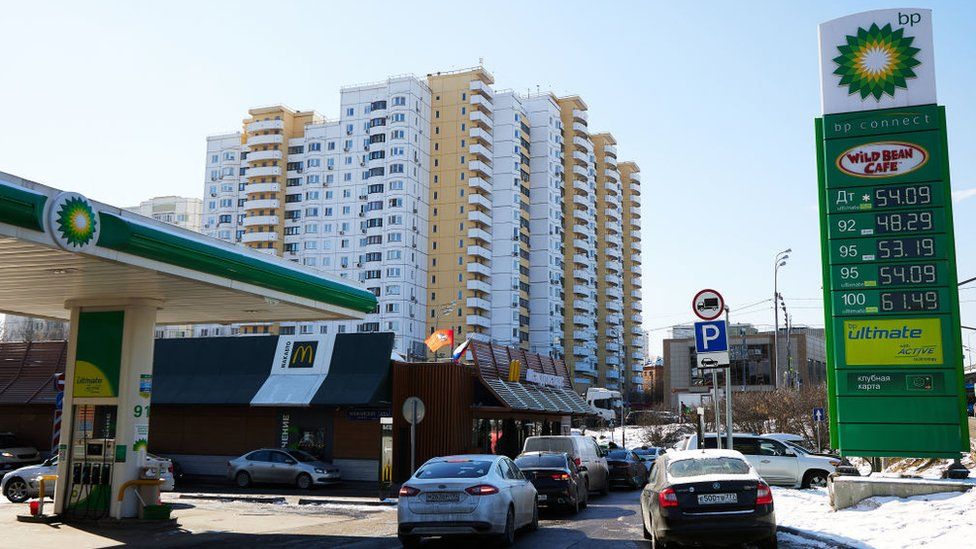 Shell sorry and pledges to stop buying Russian oil